International VR and AR Art at the Places _ VR Festival
Art and culture have always been an important part of our social coexistence and have constantly evolved, just like people. VR and AR now add a whole new component that opens up new worlds. This means: experiencing interactively, perceiving immersively, discovering new facets of already existing art or creating new exhibition concepts that are only made possible by Extended Reality. At the Places _ VR Festival 2021, you will see applications by international VR and AR artists and cultural workers that bring art and culture to life for you. A special highlight is our location KauVR in an old supermarket on Bochumer Straße, where a top-class art and culture programme is assembled.
"The System Collective" from Vienna turns the public space into an exhibition area. Since 2020, the two media artists Daniela Weiss and Jascha Ehrenreich have developed a virtual museum that uses public space to present art digitally. Via an AR web platform, artists can freely place their works in public, which can then be discovered by interested parties. Every work of art thus becomes a permanent part of urban culture. The focus is primarily on the digitalisation of analogue art from all genres, from performance and painting to video and audio installations. At the Places _ VR Festival you can discover the exhibition project "volksg[ar]ten. Opposition", which is the result of a collaboration with the Experimental Media master class at the University of Applied Sciences St. Pölten.
Also from Austria is the start-up Artivive, which has set itself the goal of combining haptic and digital art through augmented reality. With the AR app of the same name, works of art of all sizes – whether postcards, posters, paintings or mural – can be brought to life and expanded to include a digital, artistic level. At the Places _ VR Festival 2020, the technology was already successfully used in the "urbanana-AReal" project, where you could scan street art in the Bochumer Straße district with your smartphone and add artistic 3D animations, videos or images.
Artivive is already used by more than 38,000 artists in over 92 countries and can be experienced at the Places _ VR Festival.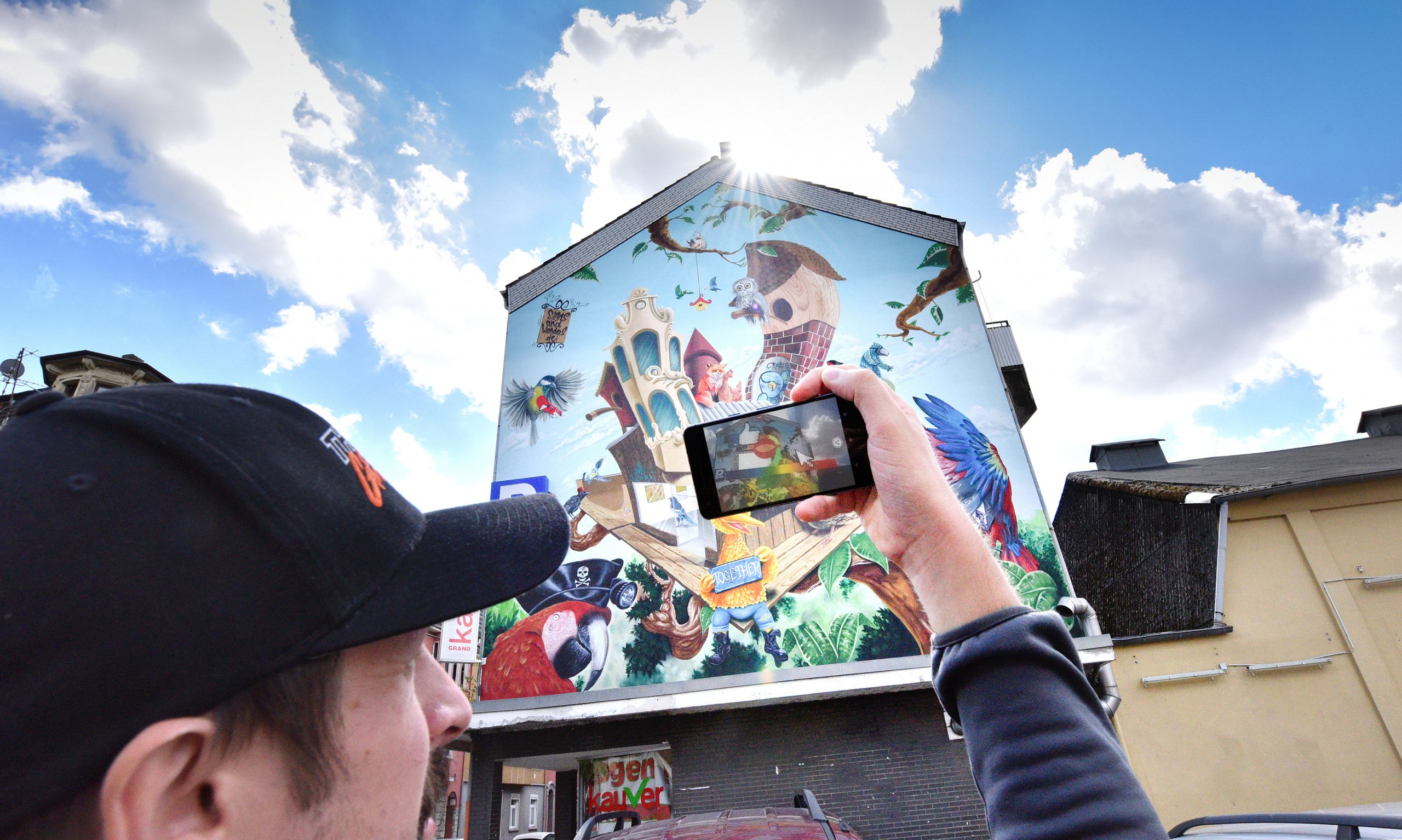 XR applications blur the boundaries between reality and technology. It is precisely at this interface that Arash Akbari sets to work. With his experimental application "Infomorph", the transdisciplinary artist from Iran offers an artistic VR experience on the relationship between man and machine. You are immersed in a scenario that deals with themes such as reality, life and the relationship between man, machine and nature in a posthuman future in which living in the physical world is no longer possible or necessary. It narrates the process of consciousness transfer of one of the last biological consciousnesses of a human being, while an AI agent accompanies him through the transition.
The multidisciplinary ensemble "Lemieux Pilon 4D Art" from Canada also offers you an artistic-immersive experience. Since 1984, the duo around Michel Lemieux and Victor Pilon has been merging artistic dimensions with a fusion of dance, theatre, music, visual arts and film. VR now adds a whole new level, which is reflected in the immersive VR experience "Icarus". Here, the story of the young Icarus from Greek mythology is told, who burnt his wings because he flew too close to the sun. In the application, you get the feeling that you are being hurled through space at high speed to reach the sun. Experience the possibilities of immersive storytelling at the Places _ VR Festival 2021.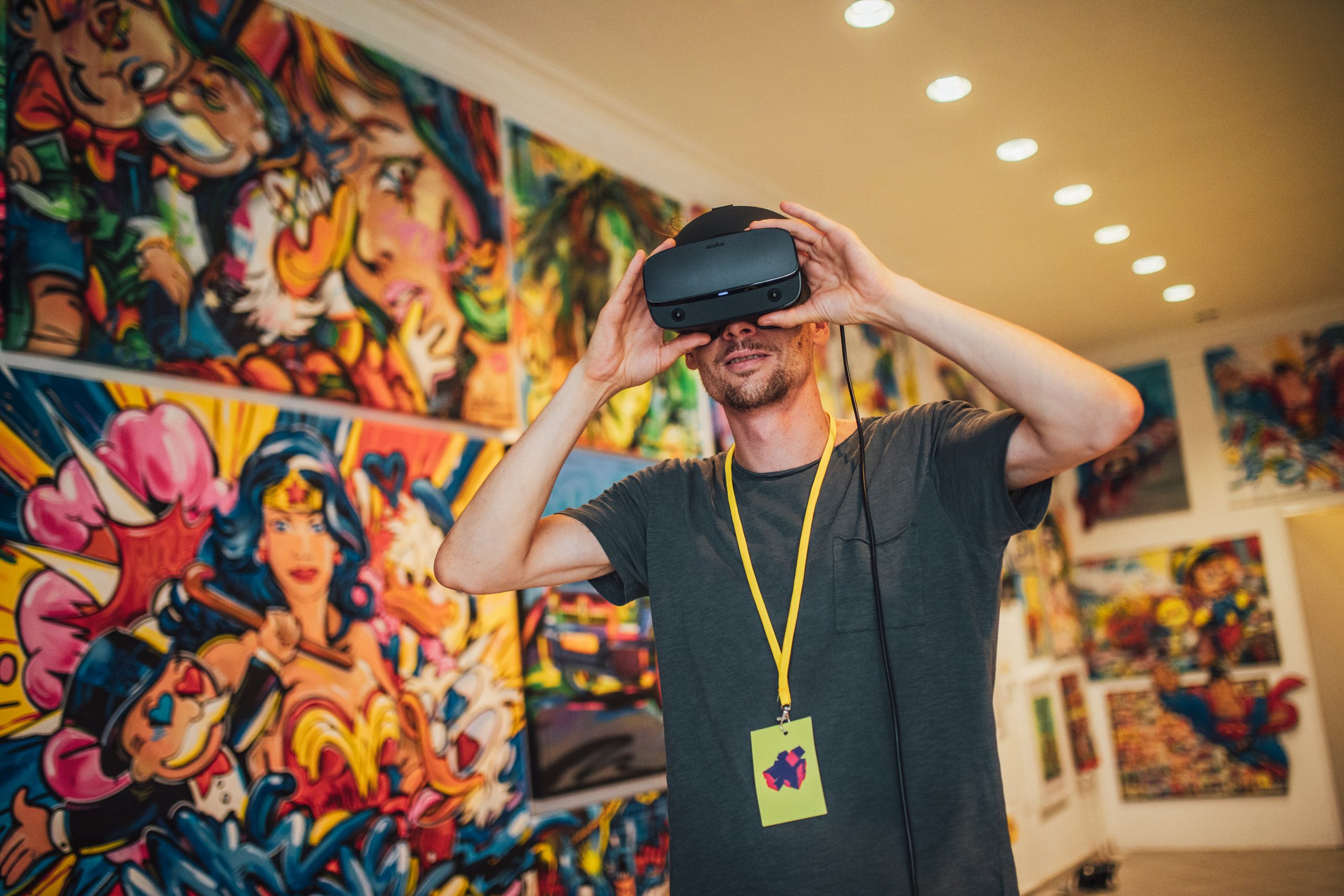 Combining tradition with modernity: This is what the Konzerthaus Berlin, which has been in existence for more than 200 years, has set out to achieve, and so it is no surprise that innovative technologies such as virtual reality have now also found their way into the house. VR applications are designed to combine music with visual experiences. This is also the case in the interactive environment of "ʊmˌvɛltn̩ – Environments", which was created together with the University of Applied Sciences (HTW). Here you can immerse yourself in a fantastic cosmos of virtual plant creatures, plants and sounds. Over 200 3D objects and around 500 sound tracks show you the possibilities at the interface of contemporary music, visual art and virtual reality. Each interaction with the plants and creatures creates new sounds and tones, so that each visit is different from the next. The sounds were recorded by the Konzerthausorchester Berlin under the direction of composer Mark Barden.
On a purely technical level, XR technologies also complement art and culture in a meaningful way. In the application "(Don't) touch VR" it is possible to touch exhibits in a virtual exhibition via a glove equipped with sensors. This can be used to rethink exhibition concepts in museums and galleries. The application from the Kunsthochschule Halle has been nominated for this year's DIVR Science Award in the "concept" category.
Another participant in the DIVR Science Award at the Places _ VR Festiva will also allow children to experience XR art:
In a project of the Folkwang University of the Arts, children can build their own mixed reality atmosphere. The real environment is used as a canvas, which is supplemented by a programme with the Hololens to create a mixed reality experience.
Whether on a purely technical level or through new, creative approaches: VR and AR offer countless opportunities to rethink and complement art and culture on many levels. At the Places _ VR Festival you can discover these perspectives!