Playfully immerse yourself in the VR world
If you take a look at the future of gaming, you won't miss VR technology. We want to bring this great potential closer to you at this year's Places _ VR Festival. At various locations you can get to know the possibilities of VR gaming in different ways!
What could be better in summer than an ice cream? In the game "Frozen Factory" by the games studio Curvature Games from Hamburg, you can make a huge ice cream with a friend. To do this, you walk around a large ice cream factory and operate various machines. The interesting thing is that the game uses the "redirected walking" technology developed by Curvature Games, which gives you the feeling that the distance you walk in virtual space seems much larger than it actually is in reality. You have the feeling that you are moving in a huge ice factory, but in reality you are on a playing field measuring just 3 x 5 metres.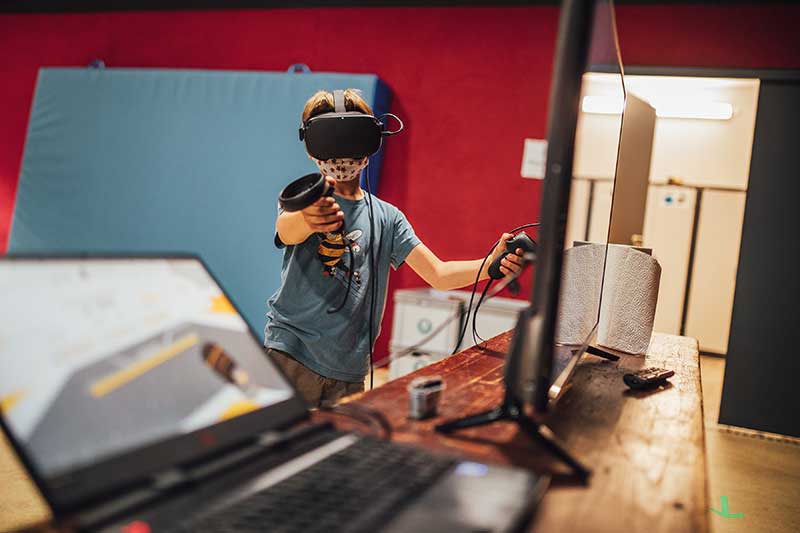 But there is more to discover in VR gaming than the production of ice cream. At the "Sportbude" we show you the possibilities that VR offers for children and parents: In three different stations, children can immerse themselves in different VR games according to their age. Meanwhile, parents can gain their first VR experiences through an application by mxr storytelling in a virtual children's room and learn, among other things, how VR affects children and can be used the best way.
If you have already outgrown VR gaming as a child, you can get to know the big world of VR gaming at Vroom.Ruhr. Whether it's a co-op game, a shooter or a racing game in the MotionSeat: here you can try out a wide variety of VR games and immerse yourself in VR through play.
The Vroom.Ruhr has been located on Bochumer Straße since 2016, making it a true pioneer in VR gaming.
If you are looking for a challenge in a group, the Holocafé is the place to be. Here, the focus is on the social aspect of VR games and offers you shared group experiences while playing. Holocafé is a VR arcade franchise and develops the VR games itself. The company from Düsseldorf is taking part in our Startup Pitch this year.
VR gaming is also becoming an important component in the medical sector. The game "Rehabball" from the xR-Lab at Karlsruhe University of Applied Sciences helps to manage rehab with VR. The application is designed to support rehabilitation measures for people with arm injuries and is also a candidate for the DIVR Science Award this year.
So come to Gelsenkirchen-Ückendorf on September 17 & 18 and discover the world of VR gaming!