From tourism to the daily news – creative use of AR and VR at the Places _ VR Festival
Have you ever had a news reporter standing in your own living room? Or explored a city with your smartphone and brought long-forgotten historical buildings back to life? This is possible with Virtual Reality and Augmented Reality. These technologies offer a great deal of creative scope that can be put to good use in areas ranging from marketing to tourism. At the Places _ VR Festival 2021, you can experience first-hand what is already possible with our programme partners, speakers and the participants of the DIVR Science Award.
The living room becomes a stage: the start-up "Volucap" from Potsdam creates volumetric 3D images of people, which can then be used as avatars in AR presentations. The company has already used the technology to completely digitalise the news of the day or to turn a live concert by The Boss Hoss into a holographic reality. So in the future it will be possible to experience entire TV shows, performances by musicians or the news directly in the living room.
At the Places _ VR Festival, together with Volucap, you can discover what it looks like to face the news anchors directly with VR glasses and experience the news in a whole new way.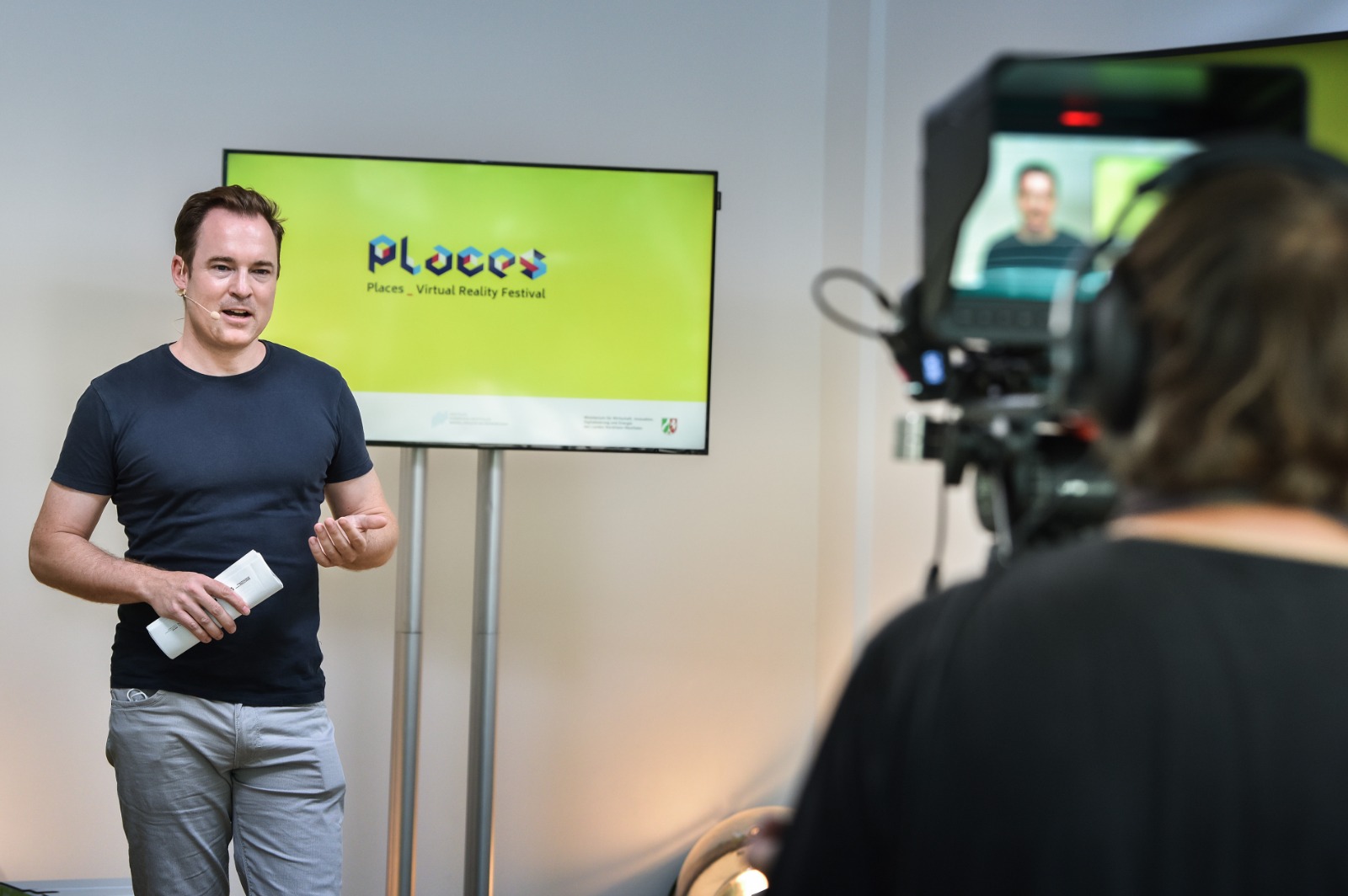 At the Places _ VR Festival, you can meet our speaker Gerhard Schröder directly without AR glasses and experience him live. The founder of the company "Kreative Kommunikations Konzepte" is one of the German experts for video marketing and 360° video and a sought-after speaker and lecturer. With his company, he implements modern 360° image films in VR and AR, among other things, and provides strategic support to his clients.
Another perspective on the possibilities in the 360-degree world will be provided by Marcus Mitter, a real industry veteran. With his company "360up", he offers virtual 360° tours of companies that can also be experienced as virtual reality experiences. In this way, he helps his clients to increase the online visibility of their companies through interactive media.
Within six years, Marcus Mitter has published more than 12,500 panoramas in virtual Google Street View Trusted Tours of hundreds of companies, which have already been clicked more than 90 million times by interested people on Google Services.
For this, Marcus Mitter has already been awarded the silver medal of the Google Business View Awards twice by Google. At the Places _ VR Festival, he will share this expertise as a speaker with those interested in VR and AR.
Bringing the past back to life on a virtual city tour: This is possible with the "SpotAR" application from the Soest-based start-up "SWCode". You can go out with your smartphone, explore a new city and discover historical buildings that once stood where you are with augmented reality. In addition, the app navigates you to the most exciting sights of a city using AR navigation with predefined tours. The smartphone camera provides you with interesting information about the places. You can already try out all the app's functions during a city tour in Soest. But there are also exciting things to see at the Places _ VR Festival: Here you can discover an old Gelsenkirchen tram with AR!
More exciting information on the topic can be found at the speaker appearance of Viktor Waal, who founded SWCode together with a kindergarten friend and describes himself as a "digital native" with a great passion for digital topics.
XR offers exciting solutions for businesses to rebrand themselves or for cities to take tourism to a new level. So, put on the right VR or AR glasses and discover the possibilities that arise in the field of creative industries and marketing at the Places _ VR Festival!