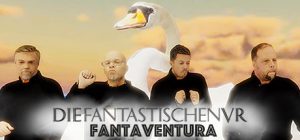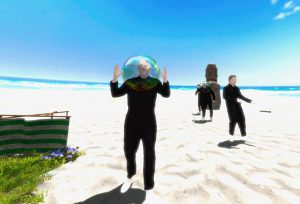 Die Fantastischen VR – Fantaventura
FANTAVENTURA is an incredible island in the distant ocean. You and DIE FANTASTISCHEN VIER have mysteriously landed there. Everything seems hyper-realistic and at the same time surrealistic – true to the motto: "State, space and time change". A walk on the beach where you move freely through light and shadow. The sun shines intensely, the heat ventilates the horizon.
It seems as if you are in a new version of the cult video "TAG AM MEER". Except that you are the center of the action. Look around you carefully. With your hands you can grasp shimmering soap bubbles. Pull them over your head to dive into a new world of DIE FANTASTISCHEN VIER. When you leave the bubble, the time of day and the landscape have already changed again. Wasn't it just early afternoon? Where do the stones on the beach come from? Time does not pass linearly.
Fantaventura
Spend an incredible day at the sea with DIE FANTASTISCHEN VIER. But be aware that you have to come back to really uncover all the secrets of Michi, Smudo, Thomas and Andy.
Duration of the application: Up to 45 min